How to Register .AE Domain – Requirements | Price | Process
When it comes to establishing a strong online presence, the choice of a domain name is pivotal. For businesses and individuals based in the United Arab Emirates (UAE), a .ae domain is not just a web address; it's a digital identity that carries both prestige and local relevance. In this guide, we will explore the ins and outs of registering a .ae domain, including the requirements, pricing, and the process involved.
In this comprehensive guide, we're dedicated to unraveling the intricacies of acquiring a .ae domain. We'll delve into the nitty-gritty details, covering everything from the specific requirements you need to fulfill to the pricing structure involved and the step-by-step process of obtaining your .ae domain. By the end of this guide, you'll have a clear understanding of what it takes to secure a .ae domain and how it can bolster your online presence. Here is Best Practices for Buying Domain Name.
Whether you're a business looking to tap into the UAE market or an individual seeking a unique online identity, this guide is your roadmap to navigate the world of .ae domains.
What is .AE Domain
A .ae domain is the country code top-level domain (ccTLD) for the United Arab Emirates. It is a domain extension that not only represents your online presence but also signifies your connection to the UAE. Telecommunications and Digital Government Regulatory Authority of UAE (TDRA) is the administrating body for the .ae domains. Government of the UAE own this domain extension.
Why Choose .AE Domain for UAE Based Sites
Geographic Relevance
One of the primary reasons to choose a .ae domain is its geographic relevance. When your website has a .ae extension, it immediately conveys to visitors that your content, products, or services are tailored to the UAE market.
Google consider ccTLDs like .ae as a strong signal that the site is explicitly intended for a certain country.
Country-code top-level domain names (ccTLDs). These are tied to a specific country (for example .de for Germany, .cn for China), and therefore provide a strong signal to both users and search engines that your site is explicitly intended for a certain country. 

Source
Trust and Credibility
Trust is a crucial element in the online world. A .ae domain enhances trust and credibility, as local visitors often prefer websites with familiar country code extensions.
National governments have more control on ccTLDs as compare to global domain like .com .net or .org. As ccTLDs are run and managed by national governments. Hence, there are less chances of fraudulent activates on sites with a local TLD.
Improved User Experience
Local users tend to find websites with .ae domains more user-friendly. They feel more comfortable engaging with content that matches their location and language.
ccTLDs are associated with specific countries or regions like ae for UAE. When users see a ccTLD, it signals that the website is likely to have content and services tailored to their region. This can make users feel more at home and confident that the information or services are relevant to them.
Marketing, Advertising, and SEO
A .ae domain can be a powerful tool for your marketing efforts, particularly when targeting local audiences. Search engines may also prioritize .ae domains for region-specific searches, potentially boosting your SEO rankings. Google search advocate John Muller described how he think of ccTLDs and gTLD.
The main thing I'd watch out for is ccTLD ("country code" — like nl, fr, de) vs gTLD ("generic" – com, store, net, etc). ccTLDs tend to focus on one country, which is fine if you plan on mostly selling in that country, or if you want to sell globally. If you mostly want to target another country (like "nationwi.de" but you want to target the US), then make sure to get either that ccTLD or a gTLD.

John Mueller
Requirements to Register .AE Domain
In general, .ae domains are open for registration to individuals and organizations worldwide. There are no specific eligibility restrictions, and most people and businesses can register a .AE domain.
Registering a .AE domain typically involves straightforward and general requirements.
How to Register .AE Domain Name
Now, let's explore the step-by-step process to register your .ae domain
Choose a Registrar

The first step to register .ae domain is to choose a registrar offering .AE domain registration. I would recomend you to go with TezHost UAE for .AE domain registration.

Domain Availability

Check the availability of your desired .AE domain name by searching the domain name on domain search box.

Provide Information

Complete the registration form, providing the necessary details and documents as per the TRA's requirements.

Payment

Pay the registration fee to secure your .ae domain.

Verification

The registrar will initiate the verification process. Ensure your provided information aligns with the TRA's guidelines.

Confirmation

Once verified, you'll receive a confirmation of your .ae domain registration.
Pricing of .AE Domain
Pricing for .ae domains can vary depending on the registrar. TezHost is best for the reason offering .ae domain with no hidden charges and same renewal prices. Generally, .ae domains are competitively priced, offering affordable options for individuals and businesses. Pricing may include annual fees, and In some cases TezHost offers discount for multi-year registrations.
At TezHost the price of .AE Domain for the period of 1 year is Dh260.00. This price will double for two years period and go on. The maximum time period for registration of .ae domain is 5year. You will get discount on registration of .AE domain name for 5 years by asking our sales agent at live chat.
Best Hosting Combination with .AE Domain
Choosing the right hosting service is essential to complement your .ae domain. Reliable hosting ensures your website runs smoothly and loads quickly, enhancing user experience. It's advisable to opt for hosting providers with a strong presence in the UAE for optimal performance.
Initially, I would suggest you to go with Basic Web Hosting for your UAE based website. The reason behind is this hosting package is affordable with good features and there are different variation of this package. Means you can get better package of basic hosting according to your needs. The change of hosting plan is also very easy if you own basic hosting with TezHost.
Conclusion
Securing a .ae domain offers numerous advantages for businesses and individuals in the United Arab Emirates (UAE). This country code top-level domain (ccTLD) is much more than just a web address; it's a symbol of local pride, trust, and an enhanced user experience.
For those seeking to register a .ae domain, the process is relatively straightforward and open to individuals and organizations worldwide. It involves selecting a registrar, checking domain availability, providing necessary information, making the payment, and going through a verification process.
FAQs
Who controls .AE Domains?
The .ae domain space is regulated and overseen by the Telecommunications Regulatory Authority (TRA) in the United Arab Emirates.
How long does .AE domain registration take?
The registration process typically takes a seconds if you follow the process mentioned above. If you have issues registering your .AE domain you can get live support though chat option.
Can I hide my whois info of .AE domain name?
Unlike .com and other gTLDs .AE domain authorities (aeDA) not allow you to hide your whois info.
Do I need to provide any documents to register .AE Domain?
No, there is no requirement to provide any document to register .ae domain
Is .AE domain migration possible?
Yes, it is possible to migrate your .ae domain to a different registrar, but the process involves certain procedures and requirements.
Which company is best to register .ae domains internationally?
There are several accredited registrars for .ae domains. It's advisable to choose a reputable registrar that offers excellent customer support, pricing, and additional services that meet your specific needs. TezHost UAE is one of the best options to get .ae domain easily with web hosting services in UAE.
Comment:
Posted on: June 27, 2023
Category: Domains
Subdomains are a great way to organize and manage your website's content. They can be used to create
By TezHost Editorial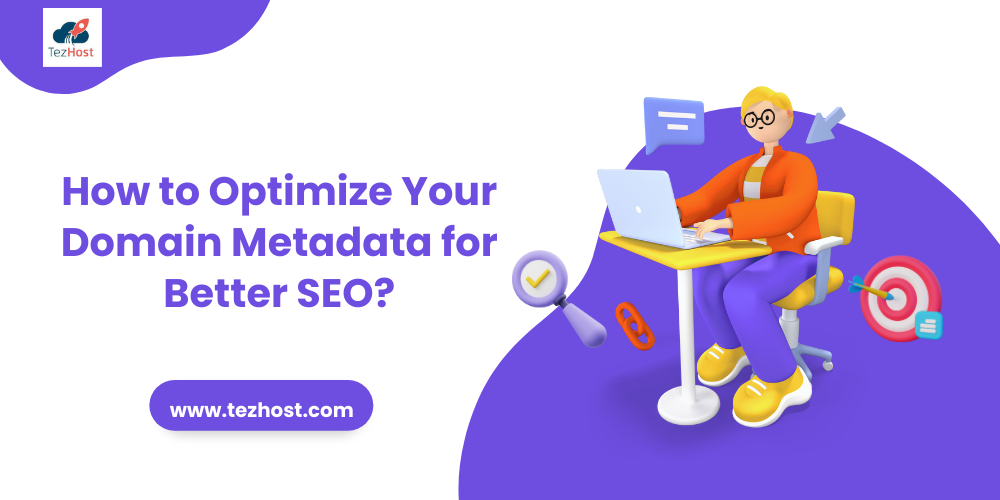 Posted on: June 24, 2023
Category: Domains
Metadata is data that describes other data. In the context of SEO, metadata is the information that helps
By TezHost Editorial
Posted on: July 3, 2023
Category: Domains
The major distinction between domain and web hosting is that a domain is an address that allows a
By TezHost Editorial