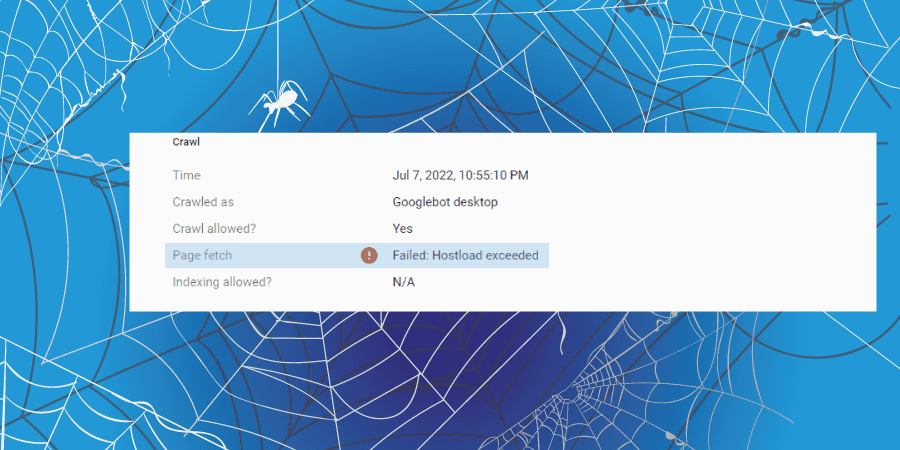 "Failed: Hostload Exceeded" Error in URL indexing Reasons
Google's latest crawler addition, the "Google-InspectionTool," introduced for testing and indexing purposes, has raised concerns due to a recurring issue: "Failed: Hostload Exceeded." Although this error isn't a novel occurrence, it remains a pertinent topic in the realm of SEO as it continues to manifest across a growing number of websites today. With a new addition to spiders list, Last spam update is involved in this issue. If a webmaster was involved in URL inspection spamming their indexing request capacity was limited with this message.
Before going deeper into this error in the search console lets dig into the new addition of bot in google and why this new crawler has an important role in SEOs.
About Google-InspectionTool
On 17th Octobar google added a new fetcher in the list of crawler here. This new spider (User agent) is added to use for Search testing tools such as the Rich Result Test and URL inspection in Search Console. Before this crawler google's main bots were used to perform the tasks of search console testing tools and URL inspection.
This crawler has significant importance to SEO as this every Webmaster uses this search console to test rich results and sometimes use indexing and testing tool to diagnose issues in the pages/posts. Due to the use of googles main crawler in search console testing, there were roamers that, indexing request in search console along with live test increase the chances of quick indexing. After this new addition of fetcher to google, such fake claims will not rise again. 
Google About Recent Failed: Hostload Exceeded Error
Indexing request again and again through search console is now something like spamming. Google officials cleared their position on social networking site X in two different discussions.
We've been looking more at this and the other similar reports in the forum, and I don't have a conclusive answer. It doesn't feel as definitive as it usually is with this error, sorry … I'll update here once we know more.

John Muller
People are spamming the Inspect URL / Submit to Indexing tool – normal indexing works fine.

John Muller
Our Research & Findings
We at Tezhsot conduct a brief research and analysed more than 100 sites which were showing error: "Failed: Hostload Exceeded Error" and same amount of sites which were not affected by this new user agent added to google bots.
1. Frequent Indexing Requests
90% of the sites we studied were practicing the regular indexing request on search console while 5-10% sites were not involved in sending regular indexing and fetching request to google bots in search console. This study further found that, a large number of webmaster were requesting indexing just to satisfy their self. Even without doing this there sites and posts were getting indexed. A few people claimed that they were doing this for a reason. 
We at TezHost don't request google to index a specific page to index and focus on internal backlink and ensure that sitemap is submitted in search console to make sure the post is reachable.
When I ask a question about frequent Indexing requests to John Muller of google on X he responded by saying. SEOs and Webmasters should focus on the quality of site rather than making regular indexing requests.
Question: Can several indexing requests in Search Console penalize website?
No, but if you're finding that you use the feature regularly, probably Google has issues (often quality-wise) with your website that you should work on instead of clicking the button in Search Console that often. Focus on what's important, and you'll have to do less.

John Muller of Google
John clarified that sites with a regular schedule of index requests will not be penalized with an advice for the future to work on quality of the site. Now we can see the results of doing this practice without trying to improve website quality.   
2. Using Google's Indexing API for non news sites
During this study we have found that a large number of sites showing this error were trying to their posts through google indexing API regularly. The webmasters were sending indexing requests through Indexing API by using python scripts and were using some plugins in CMS like WordPress.
Besure that, Indexing API in google is specific to news sites. You can use this method only when you are posting news on your sites and that needs an immediate indexing. Google identify news through schema data.
3. Low Quality Content with Regular Indexing Request
Creating low quality content has a higher risk of not getting indexed by google and other search engines. In this research we have found that low quality content creator who were facing indexing issues earlier are now facing this error while requesting to index in search console.
As discussed above the google's stance on regular indexing request. Google is now started limiting the indexing for those who are doing this on regular basis.
What Should I Do Now?
If your site encountered an error "Failed: Hostload Exceeded." you should ignore the error and try to improve the quality of the content and overall site. According to officials normal indexing is working fine. Only indexing request has the issues if you were previously involved in URL inspection spamming. The error will go away with the improved quality content and overall websites quality improvement. You should focus on the technical part of your site if you are lacking aspect of technical SEO.
Comment:
Posted on: June 26, 2023
Category: Servers
In the digital age, businesses rely heavily on technology for operations and data storage. One key decision to
By TezHost Editorial
Posted on: June 24, 2023
Category: Servers
Are you ready to take your server security to the next level? We are thrilled to announce the
By TezHost Editorial
Posted on: June 27, 2023
Category: Servers
What Is A Server? A server could be a software or hardware device that receives and processes network
By TezHost Editorial