Tips for Effective E-commerce Web Design That Sells More ©
Do you want to start an e-commerce business? Are you concerned about what web design would be most successful in helping your E-commerce website succeed? What advantages will it provide to your customers? And so forth.
Then, congratulations! You've come to the right place!
You will have all of the answers to your queries in your hands by the end of this article including some tips for Effective E-commerce Web Design That Sells More.
Let's start with the fundamentals of E-Commerce!
What Is An E-Commerce Website?
Electronic Commerce, most commonly known as E-Commerce, is a business concept in which sales transactions are carried through the internet. This arrangement is followed by almost every online shopping website, big or little. An e-commerce website allows you to buy and sell products over the internet. The best examples of e-commerce websites are Amazon and eBay.
The services that an e-commerce website enables are one of the most evident contrasts between it and a regular business or corporate website. Users will need to contact the company directly if they wish to do business with them. A company website may only contain information on the brand's products and services.
Meanwhile, an e-commerce website works similarly to a physical store. Users can purchase products, deliver schedules, and make payments all on the same site, eliminating the need to speak with a person regarding their order. Even social media accounts are being developed to be e-commerce websites platform. There are many e-commerce websites currently that sell a wide range of products. To differentiate one's brand from the others, one must be creative in everything from fashion to food and other such things.
How does an E-Commerce Website Work?
E-Commerce websites follow a set of steps that include the use of website code, databases, and third-party software like a payment processor or payment gateway.
SSL certificates are used by e-Commerce websites to safeguard and encrypt all data transfers. Sensitive information, such as credit card details, should never be maintained in a website's database unless it complies with all applicable rules, especially Security And compliance.
Pros and Cons of E-Commerce Website
PROS
Order fulfillment is handled more efficiently.
Transactions that are secure and protected.
Expenses for goods, services, and shipping are all dropped.
Targeted markets can be narrowed down to a fine point based on age, demography, preferences, and so forth.
Increased market saturation i.e., global customer base.
The distribution chain has been shortened.
For future sales projections, better and more meticulous data is needed.
Anonymity is a possibility.
CONS
Fraud vulnerability, data privacy concerns, and more threats.
Customers may not be able to examine the product in person before making a purchase.
Potential buyers must be technically minded, which may limit market reach.
There will be fewer 'personal' shopping encounters.
Tips for Effective E-commerce Web Design That Sells More
For a variety of reasons, growing e-commerce website designs are effective. It is critical to have a good e-Commerce web design if you want to convert website visitors into purchasers.
Clear, incredibly simple, and easy-to-use e-commerce website designs are the most successful. And an arranged design is the first step on the road to achieving there.
You could be losing your most valuable customers if your online store is not optimized for sales, no matter how brilliant your online marketing is.
Let's have a look at some of the most important Tips for Effective E-commerce Web Design That Sells More
1. Keep The Consumers In Mind
You must keep the interests of your users in mind in every facet of your e-commerce web design. Your store should make the finest possible first impressions. However, if you get assistance from some of the best technical e-Commerce web engineering companies, you will find it much easier to improve your customer experience. Furthermore, with easy-to-navigate and an appealing visual appearance, you may have a better possibility of increasing sales.
2. Keep It Simple
Simple interactive websites are more aesthetically appealing, trusted, and functional than visually complicated websites. The best option for optimizing your e-Commerce web design for increased sales and results is to make it simpler. Maintain a clear, clean, and basic design that focuses on selling.
3. Use of simple Buttons
Customers may be perplexed by the use of sophisticated buttons on the web. For example, a little shopping cart icon at the top of each page allows consumers to quickly see what has been added to their order.
It is a practice that many leading e-Commerce web design businesses use all over the world. The simple accessibility of the cart button boosts traffic and conversions. The button is simply integrated into your e-commerce website design. It features a familiar shopping cart and shopping bag icon.
The one thing you don't want to do is make your online visitors confused with complicated websites and iconography.
4. Navigation Menu
Users may simply explore your website's pages to locate what they're looking for using menu bars. For the greatest convenience, the menu should be on all pages, preferably at the top.
Just be careful not to overload your menu with entries, since this will make it appear congested and confused. You may organize them more readily with a drop-down menu.
5. Don't Sidetrack Users
It is a good idea to incorporate more information about your company's history, a blog, or even a sign-up form for an email newsletter on your website. Just make sure that the extra details don't deter folks from completing a purchase.
Make sure not to use a pop-up window to ask people to sign up for your email, as this may have the opposite of the desired effect of what you intend. It may not only deter someone from making the purchase. However, it may irritate them.
6. Photo Quality
The most common source of frustration for most internet users is product visibility. You must improve the e-Commerce web design by using high-resolution product photos.
A pop-up box is a common web design feature that allows users to zoom in and see small details of their favorite brands. This allows people to physically choose good stuff before making a purchase.
Customers will stay on your site longer if you use high-resolution photographs that aren't blurry. Consider making photo galleries for each product so that users can scroll through them and see numerous perspectives of the item.
7. Be Honest
It is natural to use some persuasive language, but don't go overboard, and never try to fully deceive your visitors. You should make your shipping and return policies readily available on your website, in addition to using honest product photos and clear pricing information.
Adding a link to your store policies in your main navigation menu is a quick and easy way to remember this important detail that many e-commerce store owners overlook.
8. Reviews And Testimonials
Before deciding to buy a product, buyers mostly read customer reviews. You can take advantage of this useful statistic by including reviews and testimonials directly on your website. Reviews are a simple and effective approach to boosting sales.
Product-specific reviews can be seen just beneath each product's description, which is a successful e-Commerce web design concept. If you don't have a lot of multiple products, you can make a separate page for reviews and testimonials on your website.
Comment:
Posted on: June 26, 2023
Category: Web Designs
Are you looking to create a website but feeling unsure of where to start? With so many website
By TezHost Editorial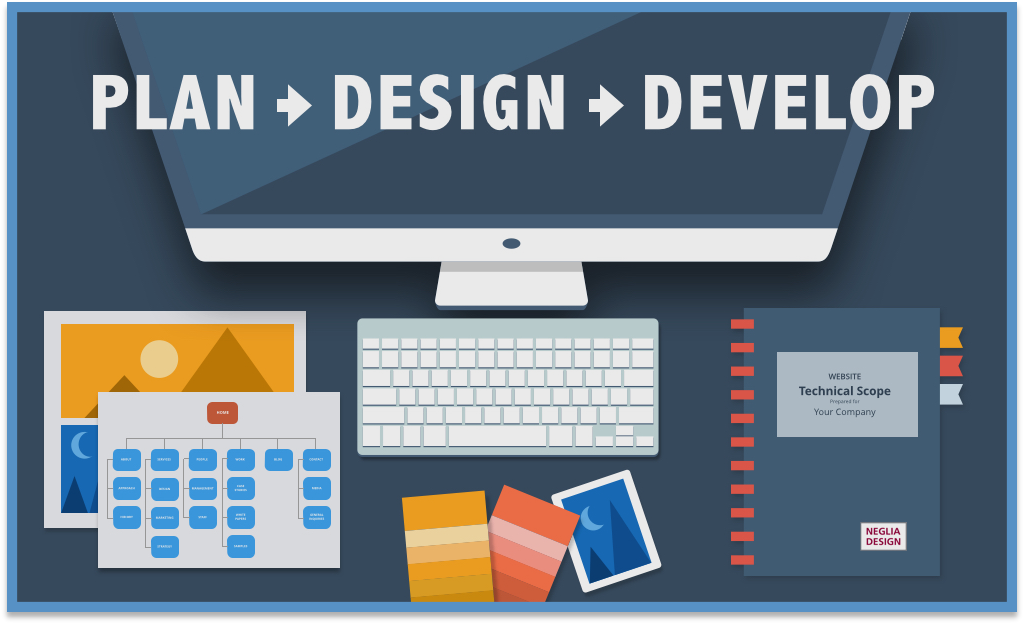 Posted on: June 27, 2023
Category: Web Designs
In this blog post, we will learn what is website development and all the other aspects in this
By TezHost Editorial
Posted on:
Category: Web Designs
Are you planning to make a website on WordPress? Do you want more traffic on your website? Your
By TezHost Editorial