Difference between WHM and WHMCS
If you're new to web hosting, you might have heard of WHM and WHMCS but are still determining how they vary. Although both software packages are necessary for managing web hosting accounts, they have different functions. To assist you in selecting the best hosting solution for your needs, we'll cover the difference between WHM and WHMCS in this blog post.
So, let's start!
What is WHM?
WHM stands for Web Host Manager. It is a control panel that allows web hosting providers to manage multiple clients' cPanel accounts from a single dashboard. You can create and manage hosting accounts, allocate resources to each account, and customize your hosting environment.
With WHM, you can perform a variety of tasks, including:
Creating and managing hosting accounts
Allocating resources to each account
Customizing your hosting environment
Publish a website
Create emails & calendars
Manage domains
Installing and managing software
Backing up, transferring and restoring data (Data management)
Launch databases
WHM is designed to be flexible and customizable, so you can tailor it to your specific needs. For example, you can create custom packages that define the resources available to each hosting account, such as disk space, bandwidth, and email accounts. You can also install custom software and configure your server settings to meet your requirements.
Related Post: Create WordPress Hosting Package in WHM
What is WHMCS?
WHMCS is a billing and automation platform that is designed specifically for web hosting providers. With WHMCS, you can automate your billing and invoicing, manage support tickets, and track your clients' usage. Some of the key features of WHMCS include:
Automated billing and invoicing
Support ticket management
Client management
Order management
Product and service management
WHMCS is designed to integrate with various web hosting control panels, including WHM. This means that you can use WHMCS to manage your clients' hosting accounts, and automate the billing and invoicing process. WHMCS also includes a variety of third-party integrations, such as payment gateways and domain registrars, which can help streamline your web hosting business.
Differences between WHM and WHMCS
WHM and WHMCS are two separate software tools that are commonly used in web hosting management. While both are developed by the same company, cPanel, they serve different functions and have different features. Here are six key differences between WHM and WHMCS:
Functionality:
WHM (Web Host Manager) is a web-based control panel that allows server administrators to manage hosting accounts, server settings, and other server-related tasks. WHMCS (Web Host Manager Complete Solution) is a client management and billing system that automates the process of managing and billing customers for web hosting services.
User Interface:
WHM has a user-friendly interface that provides access to all server management features, while WHMCS has a client-focused interface that allows customers to manage their accounts, invoices, and services.
Pricing:
WHM is included with cPanel and can be purchased as part of a hosting package, while WHMCS is a separate product that must be purchased separately. WHMCS pricing is based on the number of clients and services managed.
Integration:
WHM can be integrated with various third-party software, including billing and automation tools. WHMCS has built-in integration with a variety of popular payment gateways, such as PayPal and Stripe, as well as support ticket systems.
Customization:
WHM can be customized using third-party plugins and themes, allowing users to tailor their experience to their needs. WHMCS also supports customization, including the ability to add custom fields and templates.
Support:
WHM and WHMCS both come with cPanel's extensive documentation and support resources. However, WHMCS also provides additional support options, including phone and live chat support, for users who require more assistance.
Use Cases:
WHM is primarily used by web hosting providers who need to manage multiple cPanel accounts, while WHMCS is used by web hosting providers who need to automate their billing and invoicing processes.
Target Audience:
WHM is designed for web hosting companies and server administrators, while WHMCS is designed for hosting resellers and web hosting companies that need to manage their clients and billing.
Features:
WHM includes server management tools such as DNS, security, and email management, while WHMCS includes client management features such as automated provisioning, ticketing system, and automated billing.
Scalability:
WHM is designed to manage individual servers, while WHMCS can be used to manage multiple servers and multiple data centers from a single interface.
Security:
WHM includes features for server security, such as firewalls and brute force protection, while WHMCS includes features for client account security, such as two-factor authentication and password policies.
Which one Should you Choose?
There are a number of things to take into account when choosing between WHM and WHMCS.
As a web hosting company, you should first think about your unique needs. WHM may be your best option if you need to handle several cPanel accounts. WHMCS may be the finest option if you need to automate your billing and invoicing procedures.
Think about how much automation you need. WHM can be your best option if you prefer a more hands-on method of controlling your web hosting company. WHMCS can be the best option if you prefer a more automated method.
Take your budget into account. You'll need to choose which one fits within your budget because WHM and WHMCS both have costs.
Related Post: How to Connect WHM to Your WHMCS?
Conclusion
WHM and WHMCS are two essential software programs for managing web hosting accounts. While they have different purposes, they both serve important roles in the web hosting industry. When deciding between WHM and WHMCS, consider your specific needs, the level of automation you require, and your budget. With these factors in mind, you can make an informed decision and choose the software that's right for your web hosting business.
Consider TezHost if you're searching for reliable and effective web hosting services. TezHost is the ideal choice for businesses of all sizes because of its wide range of hosting services and excellent customer support.
Contact us now to learn how we can satisfy your web hosting needs!
Comment:
Posted on: June 26, 2023
Category: Web Hosting
MySQL is a great database management system that works on all major operating systems. However, many beginners find
By TezHost Editorial
Posted on: November 10, 2023
Category: Web Hosting
In the world of web hosting, the choice between Virtual Private Server (VPS) hosting and Dedicated hosting can
By Arif Wali Nago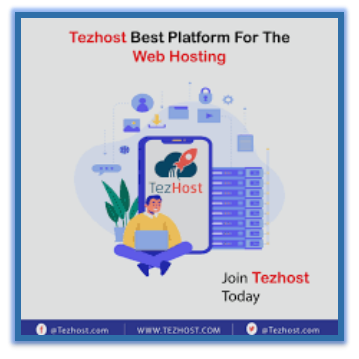 Posted on: June 27, 2023
Category: Web Hosting
TezHost is the forum you can proudly choose as your website host. We provide hosting services at the
By TezHost Editorial