Cloud Server
At Tezhost we provide full access to users for their Cloud servers. Tezhost cloud servers are the best option for dedicated hosting. Here the operating system and server resources are fully allocated to your application and website. Linux cloud server instance gets ready in a few seconds after you purchase unless there is some extra software required to be installed. Windows operating system takes some extra time and setup. You can manage all aspects of your server from our portal. Which include stop, start, restart, OS rebuild, console, and many other options. No long-term contracts are required and ready-to-use servers are best to quickly live your application. You have the option to upgrade the server anytime you need.
Cloud server management from the Tezhost portal
Features
20TB Traffic per month for a cloud server with a gigabit link.
NVMe SSD storage devices as disk space of the cloud servers.
Options to include extra storage volume drives.
Options to add extra IPs.
Options to connect two or more cloud servers via internal Lan.
External firewall
Options to add load balancers.
DDOS Protection via sophisticated hardware appliances.
AMD EPYC™ 2nd Gen, Intel® Xeon® Gold processors
Linux Cloud Servers:
There is a wide variety of Linux flavors like Ubuntu, Debian, CentOS, and Fedora versions available For Linux we provide root access via SSH and you can connect to it via putty or any other SSH client. We provide a control panel install option that gives you access to manage your server via the web interface. Via the control panel, you will be able to install Apache, Nginx, MySQL, MariaDB, Python, Node.JS, Docker, MongoDB, and all other services.
To secure your server we provide a Linux firewall to protect the server from outside threats. Linux is a very secure system, and it is unhackable unless there is a security hole in an application hosted on it. To tackle such issues and malware, we offer install of paid malware removal tools. ConfigServer Exploit Scanner is one of the options mostly used. Community 360 is another paid option.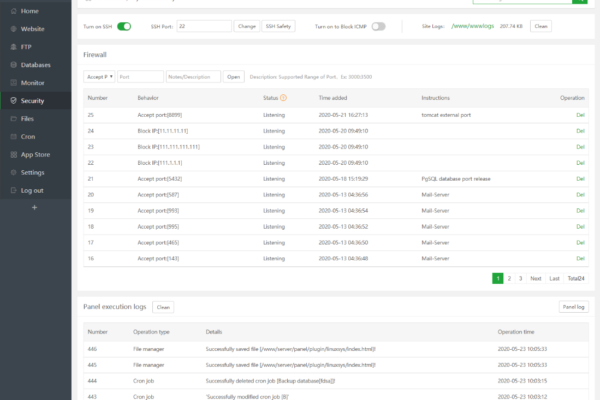 Windows Cloud Servers:
For Windows Cloud Servers we offer the latest Windows Server 2019 and 2016. The access to windows server is possible via RDP which is easily available in all windows Desktop operating systems. Full Administrator access is provided where you can install any software supported by windows. You have the option to use your own Windows License.
or ask us to add the Windows license for you at some extra cost.
Windows servers are protected with a windows firewall, and we only allow the necessary ports like RDP, HTTP, and HTTPS. The default windows defender is used as an Antivirus which is available free of cost in windows. As you have full access you can also install advanced security tools or antiviruses according to your requirements.
Cloud Server Backups.
We provide an awesome facility for cloud server backups. We provide seven daily backups of the full cloud server. This backup works for Linux as well as Windows. Via these backups, you can restore your full service to any one of the last seven days. The backups and restore are full server image backups. Our cloud servers' backups are added on-demand, and it cost 20% extra of the server cost. We highly recommend all users include the server backups.
We also help clients configure internal backups on the server like websites or database extra backups. Also, there are options to transfer backups to other cloud storage services purchased from Tezhost or any other provider like AWS, Google
Comment:
Posted on: July 3, 2023
Category: Cloud Server, Uncategorized
Introduction Humans have needed improved ways to store and access data since the dawn of trade and commerce.
By TezHost Editorial