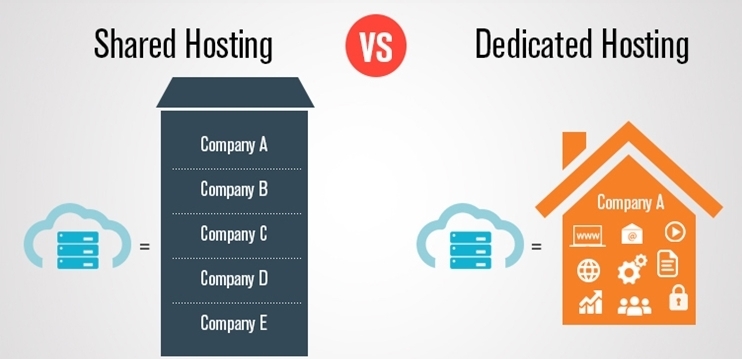 Dedicated Hosting or Shared Hosting: Which One is Better? ©
Dedicated Hosting and Shared Hosting
Are you thinking of launching your website? Do you require web hosting services to assist you in the operation of your website? If this is the case, you must first consider every crucial aspect, such as how much you want to expand your business. What are the required resources? and so forth. Shared Hosting and Dedicated Hosting are the two choices available to you.
It is as vital to pick the right hosting packages as it is to pick the right hosting provider. A web hosting service will provide a plethora of packages and options, which might be perplexing. You, on the other hand, must make a suitable decision.
This article will assist you in making informed decisions.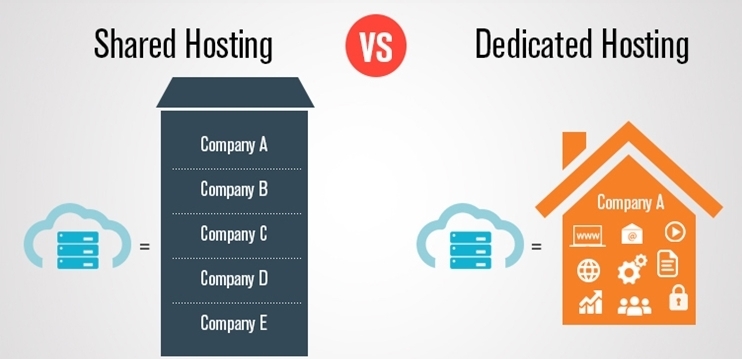 Shared Hosting
All website owners in a shared hosting environment share a single server. This includes sharing a physical server as well as the software program that runs on it (the same server resources like RAM and CPU are used for all domains).
As a result, the host can provide hosting plans at discounted prices or even for free. Most people who establish an online business usually start with a shared hosting plan to save money.
Along with the basic shared hosting, shared hosting providers may also offer extra varieties of hosting so that users can access other types of storage and services as their site expands.
Advantages of Shared Hosting
Shared hosting allows you to get things done quickly, allowing visitors to view your website without any lag. It is the most prevalent and most economical type of hosting. Another benefit is the unlimited drive space. This means you don't have to worry about your account getting overwhelmed as your website grows.
In shared hosting, you don't have to worry about executing maintenance updates or updating your hardware. It typically includes an easy-to-use dashboard where you can customize your account settings, as well as install content management systems and adjust domain settings.
Shared hosting is an excellent choice if your website receives a small amount of traffic and does not require a substantial number of resources. Smaller websites that don't utilize as many resources can run efficiently since resources are shared.
Disadvantages of Shared Hosting
Unfortunately, shared servers do not allow for server customization. One of the major drawbacks of shared hosting is constrained resource sharing. Shared hosting servers limit the number of resources you may utilize because they can host thousands of websites on one server.
Your website's overall speed will be reduced as a result of this. Due to resource constraints, your website may encounter downtime if traffic rises unexpectedly.
Another drawback of shared hosting is the lack of security. Because there are thousands of websites hosted on a single server, it is nearly impossible for the hosting company to do security upgrades on each one. However, some hosting firms enhance server security by enforcing the installation of particular upgrades.
Dedicated Hosting
You get the whole web server to yourself in the dedicated web hosting. You will have absolute control over server resources and do not have to share them with other website owners, resulting in speedier performance.
This also implies that you will be responsible for the overall maintenance and operating costs of the server. This is the ideal option for high-traffic websites that require a lot of resources and a high level of security.
Advantages of Dedicated Hosting
Dedicated hosting has enhanced reliability by providing the opportunity for growth and scalability. This assures you because you know you're guarded. Most dedicated servers are DDoS protected, ensuring that not only the server but also your website, remains operational.
Dedicated hosting has its own set of benefits, like speedy load speeds even when dealing with high traffic. Because its resources are not shared, your website has complete control over the processing power. This ensures peak performance, which aids Google ranks and SEO.
You get to handle the entire server with dedicated hosting. This is referred to as root access. You have complete control over your server if you have root access. You can verify that your website and server are entirely safe and that all procedures are running with this level of control and flexibility.
Disadvantages of Dedicated Hosting
Server managerial skills are required for the technical side of dedicated hosting. Because server security is so critical, having this power comes with a lot of responsibility.
Dedicated hosting costs more than shared hosting since it has advanced features. It is among the costliest hosting options available. All of the other features aren't free, but they're well worth it for individuals who want total control and flexibility over their hosting.
Unlike shared hosting, where your hosting company manages updates and maintenance, a dedicated server is not controlled by the hosting business.
How to Know which one is best for you?
Dedicated hosting and shared hosting are both excellent choices. Taking the effort to figure out which one is right for your company is a crucial step to make. Because the features of shared and dedicated servers are very much different, most small businesses have little trouble determining which one to
Shared hosting is the logical choice if you want a low-cost hosting option and don't mind giving up some control over the hosting environment. Dedicated servers make more sense if your company requires complete control over the web server and is willing to pay a premium for it.
If you are still perplexed, know that the great majority of small businesses do not host their websites on a dedicated server. The most frequent type of hosting for small enterprises is shared hosting. On the other hand, larger businesses choose dedicated hosting for smooth working because of the high traffic.
To conclude, it would not be wrong to mention that the hosting package you choose for your website is an important decision. The right package will allow your website to run at maximum speed and efficiency. When picking between shared and dedicated hosting, consider the needs of your website, your technical knowledge, and your budget.
Conclusion
Shared hosting is the most affordable choice and is also the most straightforward to use. It's usually the best hosting option for smaller websites. Dedicated hosting provides a great deal of power and flexibility, but it also comes with a lot of responsibility. It is not the best hosting option for every website, but it is well worth the money for those that require total control.
Comment:
Posted on: June 24, 2023
Category: Web Hosting
If you're new to web hosting, you might have heard of WHM and WHMCS but are still determining
By TezHost Editorial
Posted on:
Category: Web Hosting
Are you looking for reliable web hosting services? TezHost has got you covered with a range of hosting
By TezHost Editorial
Posted on:
Category: Web Hosting
In today's digital age, where the internet plays a crucial role in our lives, it is important for
By TezHost Editorial