The Inconvenient Truth about 24/7 Hosting Support
Most of the web hosting service providers in the market claim to have a technical support team available around the clock. This has somewhat become an industry standard for any reputable web hosting company to have. What does 24/7 support mean exactly? Does it always mean you will get support at any time of the day instantly? Nope. And here are a few examples to be aware of:
1-Only level-1 support available around the clock
This is probably the most common issue with 24/7 support. Some web hosting companies claim that they have technical support available outside office hours and even on holidays. What they don't tell you is that this covers only level-1 support. In many cases, a level-1 staff has very limited knowledge about handling issues. Their capability may be sufficient for assisting you with setting up an email account or pointing your domain to new name servers. However, with more complex issues, such as the website being down or hacked, the issue would be instantly escalated to a queue for higher levels of support.
Therefore, in most cases, level-1 is more like a virtual secretary who answers your ticket to let you know that the message has been forwarded to a technician, who will be responding to the matter "as soon as possible". Worst case scenario you would have to wait for an answer for days, especially if it is the holiday season or on weekends. This can be nerve-wracking when you need the issue to be addressed immediately.
2- Outsourced 24/7 technical support
Outsourcing technical support can be an attractive option for a web hosting company to save money and resources. Instead of recruiting and training their in-house staff who would be on the full payroll, many hosting providers take a shortcut and hire outside help. Sometimes if they get lucky, they can get a capable team to help their clients but often outsourced help desks lack the quality of service.
The reason why an outsourced support team is never the same as an in-house one is mostly because of communication problems between the owners and support teams. Many times, the outsourced support team is located in a different country. This may cause a language barrier and misunderstandings. The owners would never know for sure if the team is always there to perform their duty. The outsourced support team is not only working for one company. They are simultaneously working on multiple different help desks. It is also impossible for the owners to know the credentials of an outsourced technician. Many times, they don't even know their real names. Trusting your data in the hands of someone nobody knows seems a bit risky.
3-Understaffed help desk
This is a common problem with bigger service providers. While they have a 24/7 support team on duty, they don't have enough staff to handle the ticket load fast enough. You might have to sometimes wait for hours between responses from the technician. This may lead to days in resolution time. A client of ours told his experience with a previous host of his when his website suddenly went offline:
"First I had to wait in a queue of live chat for 1 hour and 45 minutes to even talk to a technician. Once he confirmed the issue, the support ticket was created and escalated to Level-2 admin who responded the next day by email without resolving the issue. All this time my website was down and I was forced to move my site elsewhere!"
It is a valid point to argue whether it is reasonable to call a support "24/7 support" if a customer has to wait for hours or days to even get a response.
4- No 24/7 support in reality
In the online world, it is difficult to know whether the web hosting provider is honest about telling the level of support they provide. We have heard quite a few cases about companies claiming to have 24/7/365 support, but when all hell breaks loose, nobody is there answering your support tickets. This can be disappointing from the client's perspective.
So, what can you do to avoid unpleasant surprises?
This all may sound frustrating when you are looking for a web hosting provider that you could trust. You can never know for sure before trying but there are a few things you can certainly do to improve your chances of finding the best web host for you.
Contact the sales support before signing up to confirm if they also have Level-2 and Level-3 coverage 24/7. In case they do, is it free of charge outside of office hours? You may also try to ask whether they have an in-house or outsourced support team.
See how long it takes to get a reply from a sales representative. It is understandable that with more complex system quotes it may take some time to compose the reply. However, if the sales agent takes hours or days to answer your simple questions regarding the service, you can expect the same from the technical support.
Pay attention to the communication skills of the support agent. If they fail to answer your questions, don't understand you at all, or in case the reply contains numerous errors, you might be dealing with an incompetent, outsourced customer support agent.
Try contacting technical support at inconvenient hours, for example during holidays or in the middle of the night. If you get swift replies at all times, you can be sure the company has 24/7 support. In case you have to wait for answers for hours or even days, move forward to your next potential hosting service option.
Read customer reviews on reputable web hosting review websites. It is a really good indicator to read testimonials of existing customers of the web hosting provider. Google is your best friend when looking for unbiased customer reviews of your potential web host candidate.
If you are tired of looking further, you are welcome to sign-up with our web hosting services. I can assure you that you will be satisfied with the level of support we can provide to you. Our in-house support team has been awarded as one of the best support teams in the market. We provide real 24/7/365 support with unlimited level-3 coverage and guaranteed response time within minutes.
Comment:
Posted on: August 22, 2023
Category: Web Hosting
In today's digital age, web hosting plays a crucial role in ensuring an efficient and seamless online presence
By TezHost Editorial
Posted on: June 26, 2023
Category: Web Hosting
Are you looking for a reliable and secure web hosting solution? Linux web hosting is a great option
By TezHost Editorial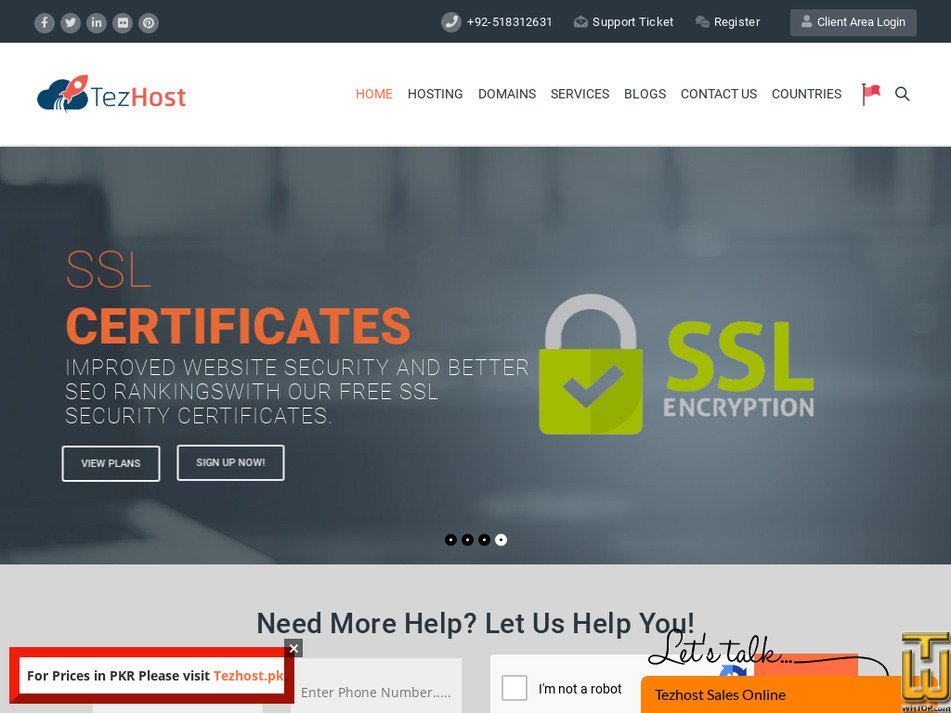 Posted on:
Category: Web Hosting
Have you just decided to start some work online? An online store or a website? That's it. You
By TezHost Editorial