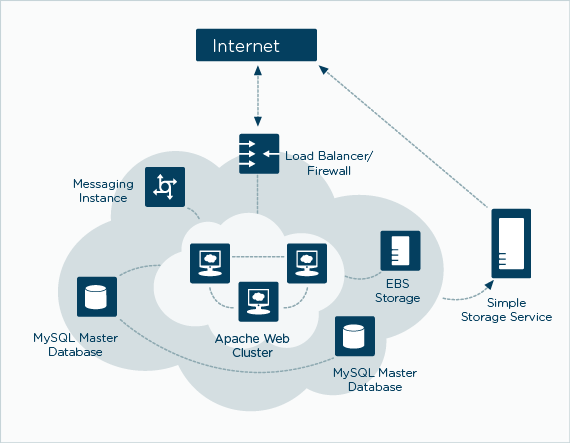 What Is The Buzz In Web Hosting? ©
Introduction
Certain aspects of web hosting are quite popular and crucial. In this article, I will elucidate a few web hosting buzz terms and concepts. Buzz words/concepts are significant words or concepts having considerable attention in a certain field or context. There are several such topics in web hosting. We will learn, what are they. and why the buzz?
1. CLOUD HOSTING
Cloud hosting, which has become a popular buzzword, has proven to be a useful and innovative solution. The cloud is being adopted by everyone. Data can be saved on many channels at the same time in the cloud. This data is then sent through networks such as the internet.
The data on your website is spread throughout a cluster of thousands of servers, acting as one massive store, processor, and space. This ensures that no data is lost if one of the servers fails. This also means you can access all of your data, applications, email, and software from any location.
Professional cloud hosting service providers take care of the setup, maintenance, and security while letting you customize your application and hardware and increase resources as needed. In addition, virtual resources from a variety of servers are used to meet all of your website's needs.
Flexibility, reliability, high security, and scalability are all advantages of high-performance cloud web hosting. Furthermore, by using cloud hosting, your website may retain quick load time even during peak traffic times such as marketing or events.
2. RESELLER HOSTING
It is another buzzword that is defined as a web hosting provider service that permits an individual or company to offer web hosting services as their own. The majority of seller hosting plans operate on a wholesale basis. You link up with a reputable host, create a reseller account to gain access to wholesale prices, customize the web hosting if necessary, and then resell it at a profit.
As long as you work within the host's terms, you can usually determine your own pricing and terms. After that, you're free to operate as it pleases you. The reseller hosting provider provides you with a reseller hosting account with lots of space that you can divide into sub-accounts and resell to clients for a profit.
In comparison to single-site hosting accounts, they're quite affordable. You may compare them to a trade saving account. As a reseller, you receive a subsidized web hosting bundle that you can resell to your customers for a profit.
3. DEDICATED HOSTING
A dedicated server is a sort of web hosting in which your company gets its dedicated server. There is no server sharing like there is with shared hosting servers.
It can provide you with more control over your website while also preventing other customers' websites from interfering with yours. It is more expensive to use dedicated servers than it is to use shared hosting.
A dedicated server will be appropriate for you if your site receives a lot of traffic or if you have other demands such as additional security measures. In some cases, the dedicated servers are fully managed by the web hosting providers. They provide full administration services such as security.
TezHost offers dedicated server hosting which provides you with all of the support and assistance you need to keep your websites up.
4. SHARED HOSTING
In a shared hosting environment, all website owners share a single server. This applies to both the physical server and the software that runs on it (the same server resources like RAM and CPU are used for all domains).
As a result, the host may be able to offer hosting options at a reduced cost or even for free. To save money, most people who start an online business start with a shared hosting plan.
Along with basic shared hosting, shared hosting providers may also provide additional hosting options so that users may access additional storage and services as their website expands.
5. MANAGED HOSTING
Shared hosting and managed hosting are not the same thing. Because it is a service, it is not a plan. Managed hosting relieves you of everyday maintenance duties that would otherwise fall on your shoulders. These include backups, security monitoring, software updates, and other responsibilities.
Managed hosting plans are available in a variety of configurations. Managed shared plans, managed VPS, and even managed dedicated servers are all available. In each of these cases, you pay a reduced price so you don't have to worry about the technical side of hosting and can concentrate on developing your blog, portfolio, or e-commerce site.
6. VIRTUAL PRIVATE SERVER (VPS) HOSTING
VPS hosting gives users their own private space on a shared server that hosts fewer websites than traditional hosting. It's a good compromise between shared and dedicated hosting. It's ideal for website owners who want more control but don't want a dedicated server.
Even though you still share the same physical server, VPS gives a higher level of privacy between users. It does, however, have conformance and security. You can set up your VPS from the start, depending on the host, to ensure you have exactly the resources you need.
7. CO-LOCATED HOSTING
This hosting option requires purchasing your own server and having it installed at the web host site. You're in charge of the server itself.
This hosting option gives you entire control over the web server, allowing you to install whatever programs or scripts you need.
8. WORDPRESS HOSTING
WordPress is a platform used to power approximately 30% of the internet. TezHost, like millions of other websites ranging from h enterprises to small blogs, runs on WordPress.
It's no wonder, then, that several web hosting companies provide WordPress-specific plans. WordPress-specific plans almost always include some form of managed service. Premium plugins, themes, and other utilities are frequently provided with free licenses.
Comment:
Posted on: June 26, 2023
Category: Web Hosting
Blogging has become an essential part of the 21st century. Whether you are a student, blogger, or professional,
By TezHost Editorial
Posted on: June 24, 2023
Category: Web Hosting
In today's digital age, where the internet plays a crucial role in our lives, it is important for
By TezHost Editorial
Posted on: June 27, 2023
Category: Web Hosting
When you have a good product and great customer service, most customers will be loyal to you and
By TezHost Editorial