Top WordPress Statistics You Should Know in 2023
WordPress is one of the most popular content management systems (CMS) in the world, with millions of users ranging from small businesses to large enterprises. As the WordPress landscape constantly evolves, it's important to stay informed about the latest statistics to remain competitive in the online market. In this post, we'll dive into the Top WordPress Statistics You Should Know in 2023.
Let's get started!
Background
WordPress, the most popular content management system (CMS) in the world, began its journey in 2001 with the name B2/Cafelog. It was not until 2003 when Matt Mullenweg, the renowned developer, and entrepreneur, took over the reins of the platform and released WordPress 0.7.
Since then, WordPress has grown exponentially, reaching a significant milestone in July 2011 when it surpassed 50 million blogs. Today, WordPress powers over 40% of all websites on the internet and boasts a 59% CMS market share.
Its popularity can be attributed to its flexibility, ease of use, and the vast array of customizable themes and plugins. With WordPress, users can easily create a professional-looking website, ranging from a simple blog to a complex e-commerce site.
Whether you are a blogger, an entrepreneur, or a developer, WordPress is the go-to platform for building a successful online presence. So join the millions of satisfied users and discover why WordPress is the ultimate CMS for your website.
Top WordPress Statistics You Should Know in 2023
Now that we know a little background of the study, let's have a look at the recent statistics:
1. WordPress Usage and Market Share
WordPress is a widely used content management system that powers 43.2% of all websites on the internet as of 2023, which is an increase from 39.5% in 2021. This means that two out of every five websites are using WordPress. The popularity of WordPress has been increasing at an average of 12% per year since 2011 when it was used by 13.1% of websites.
Among all websites using a content management system, WordPress has an impressive market share of 65.2%. In contrast, Shopify, the second most popular CMS, has a market share of only 6.6%. Other popular CMS options include Wix, Squarespace, and Joomla, with market shares of 2.8%, 2.7%, and 2.6%, respectively.
In terms of powering the most popular websites, WordPress is also a leader, powering over 36% of the top 1 million sites, including Bloomberg, Nike, and The New York Times.
For 12 years in a row, WordPress has been the fastest-growing content management system, gaining the most websites in 2023 and its already impressive user base.
Many WordPress websites also use various subcategories of WordPress. The most popular subcategory is WooCommerce, used by 20.4% of WordPress websites. Other popular subcategories include Elementor and WPBakery, with 15.9% and 15.3% of WordPress websites using the respective page builders.
In addition to being the most widely-used CMS, WordPress also boasts impressive growth rates. More than 500 new websites within the top 10 million are powered by WordPress each day, which is significantly more than the 60-80 new websites built on managed platforms like Shopify or Squarespace. This growth rate is a testament to WordPress's popularity among web developers and businesses alike.
Furthermore, WordPress is also a preferred choice for some of the world's most popular websites, powering 14.7% of the top websites globally. This impressive statistic further cements WordPress's position as a trusted and reliable CMS that can handle the demands of high-traffic, high-profile websites.
WordPress's impressive track record extends to its ability to cater to diverse entities, including some of the world's most visited websites such as The New York Times, Spotify, TechCrunch, The White House website, BBC America, and even the Facebook Newsroom. This flexibility underscores WordPress's versatility as a CMS that can effectively handle a wide range of websites, including personal blogs, news websites, portfolios, and e-commerce websites.
The platform's popularity is also reflected in the staggering volume of blog posts that are published on WordPress each second, which currently stands at 17. Moreover, WordPress enjoys a whopping 37 million global monthly searches, a testament to its reputation and wide acceptance among users.
Real-time WordPress activity data further highlights its massive user base. Over 409 million people view over 20 billion WordPress pages each month, while 70 million new posts and 77 million comments are made each month. These figures speak to the platform's popularity and its continued growth in the CMS market.
2. WordPress Plugins Statistics
WordPress boasts a vast array of plugins, with over 60,000 available for download on the WordPress Plugins directory. These plugins have been downloaded over one billion times and continue to see increased usage due to technological advancements and the constantly growing market of available plugins.
According to data collected from April 15, 2016, to April 16, 2019, a total of 18,262 plugins were published. Of these plugins, 3% have never been updated. Out of the plugins published in the last three years, only 30 have garnered 100,000+ installations. The most installed plugin is the Classic Editor, with over 4 million active installations, followed by the Elementor Page Builder with over 2 million active installations.
Approximately 57% of plugins have yet to be rated and lack reviews, whereas 76% have a homepage link and 47% offer a donate button. The best and most popular WordPress plugins of all time include
WooCommerce
The most popular plugin on WordPress is WooCommerce, with a distribution rate of 68%. With over 6.9 million websites utilizing this plugin, it has been downloaded over 229 million times and supports 67 languages.
This is twice the number of languages supported by Magento and three times more than Shopify. WooCommerce powers approximately 28% of all online stores and an impressive 93.7% of WordPress eCommerce sites.
Yoast SEO
Yoast SEO, which has been downloaded over 176 million times and is essential for those using WordPress for blogging.
Akismet
Akismet, with over 133 million downloads, is another widely popular plugin designed to prevent spam comments, blocking approximately 5 million spam pieces per hour, averaging around 7.5 million per hour.
Jetpack
Jetpack, another Automattic product, boasts almost 120 million downloads and provides users with marketing, design, and security services.
Wordfence Security
Wordfence Security, with over 121 million downloads, adds a firewall to your site to protect it from potential threats and is also a reputable source for updates on the latest security threats to WordPress.
Contact Form 7
Contact Form 7, with over 112 million downloads, allows users to create simple contact forms for their website and integrates with Akismet to prevent spam.
Gutenberg
Gutenberg is another popular WordPress plugin, with over 79.6 million active installations. Additionally, there are at least 284.2 million Gutenberg posts, accounting only for posts that use Jetpack and report whether the post was written using Gutenberg.
3. WordPress Theme Statistics
WordPress themes are an essential component of any WordPress website, providing the appearance and layout of a site. These themes can be free or paid, with most powered by WYSIWYG editors that enable live changes to be seen as they are made.
It is estimated that there are around 31,010 WordPress themes currently available in the market. This figure takes into account themes that are up-to-date or expected to be so, as well as child themes. It is important to note that themes that have both a free and paid version are considered as a single theme in this count.
The WordPress Theme Directory is a great source of free themes, including yearly default themes like Twenty Twenty. Premium themes can be purchased from marketplaces like Envato Market, where many designers have sold over $1 million worth of themes. The top themes on this marketplace include Avada, X, and Enfold, all of which are responsive and multi-purpose.
Other popular free themes from third-party developers include Hello, Astra, OceanWP, Neve, and Kadence. In terms of popularity, Divi, Avada, and Hello Elementor lead the way with a 17% market share.
The new block pattern directory at WordPress.org has been well-received, with 846 block patterns already added to the repository. The world of WordPress themes is constantly evolving, providing endless possibilities for website customization and design.
4. WordPress Security Statistics
Although WordPress is a popular CMS, it is also susceptible to security breaches. While it is generally considered secure, there have been instances of data breaches. Sucuri, a security plugin, received 90% of its cleanup requests in 2018 from WordPress sites.
The most common types of malware infections affecting WordPress are backdoors, drive-by downloads, pharma hacks, malicious redirects, and stolen passwords.
Various sources suggest that 41% of WordPress attacks are due to a vulnerability in the hosting platform, 52% are related to plugins, and 84% of all internet security vulnerabilities are caused by cross-site scripting or XSS attacks.
Additionally, 39% of WordPress vulnerabilities are attributed to cross-site scripting, 37% to exploitations of the WordPress core, and 11% to WordPress themes. Outdated WordPress sites are responsible for 44% of all hacking incidents.
One of the biggest data breaches in WordPress occurred in 2011, compromising 18 million users. The Panama Papers Leak in 2016 also affected WordPress, with 2.6TB of data, 11.5 million documents, and 4.8 million emails compromised due to an outdated Slider Revolution plugin. To avoid data breaches, it is important for WordPress users to keep their core, plugins, and themes up to date.
Conclusion
As the popularity of WordPress continues to grow in 2023, it's crucial for businesses to stay up-to-date with the latest WordPress statistics. By doing so, you can make informed decisions on how to improve your WordPress site's performance and reach a wider audience.
Whether you're just starting with WordPress or have been using it for years, there's always something new to learn. So, take advantage of the top WordPress statistics we've highlighted in this blog post to stay ahead of the curve.
At TezHost, we understand the importance of having a reliable and efficient web hosting service for your WordPress site. That's why we offer WordPress web hosting that's tailored to meet your needs. Not only do we provide fast and secure web hosting, but we also offer the preinstalled latest version of WordPress to make it easier for you to get started.
So, if you're looking for a web hosting provider that prioritizes your website's success, consider TezHost. We're confident that we can help you take your WordPress site to the next level.
Comment:
Posted on: June 26, 2023
Category: WordPress
Broken links can be the misery of a website owner's existence. Not only do they detract from user
By TezHost Editorial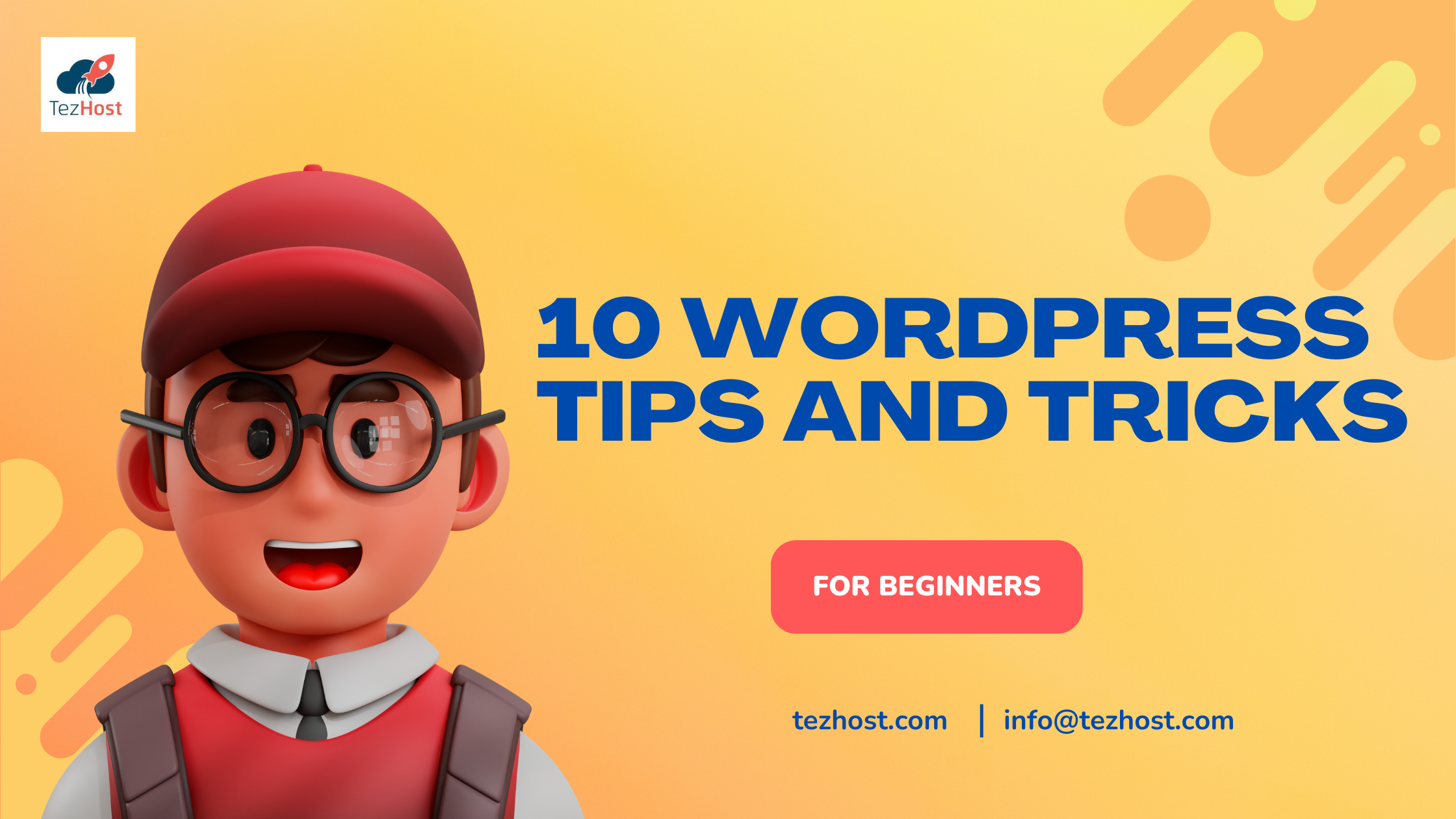 Posted on: June 24, 2023
Category: WordPress
If you are new to WordPress and want to know some basic stuff to get started, we have
By TezHost Editorial
Posted on: June 26, 2023
Category: WordPress
If you're building a website with WordPress, it's essential to understand the benefits of using a child theme.
By TezHost Editorial